Solar Power Frequently Asked Questions
Information provided within these "Frequently Asked Questions" is made available as a public service, without express or implied warranties of any kind. The data is to be used for general reference only. Only a qualified Solar Professional will be able to answer your questions fully. Find the Solar Permit Application here.
General Bountiful Solar Electricity Questions
Does Bountiful City support solar energy?
Yes we do! Bountiful City has been purchasing solar generated energy from customers for years. Bountiful City believes customers should be able to install solar power on their homes or property within guidelines allowed in Bountiful City Land Use Code 14-14-126. Bountiful City offers a sustainable solar metering policy which provides solar customers an affordable and convenient way to meet their electricity needs with locally generated solar power solar panels.
How does Bountiful City support solar energy?
Bountiful City recognizes a growing interest in alternative power and supports a resident's choice for solar energy. Our Power, Planning and Engineering Departments can answer questions regarding the permitting process.
Bountiful Power is committed to maintain a highly reliable electrical service at the lowest cost possible and consistently provide excellent customer service. The value of this unwavering commitment cannot be overstated since solar panel owners rely on the power grid more than 99% of the time (either using energy from the grid or supplying energy back through the grid).
What is the rate schedule for residential solar electric power generating systems?
Feed-In Tariff Rate Schedule (effective July 1, 2019):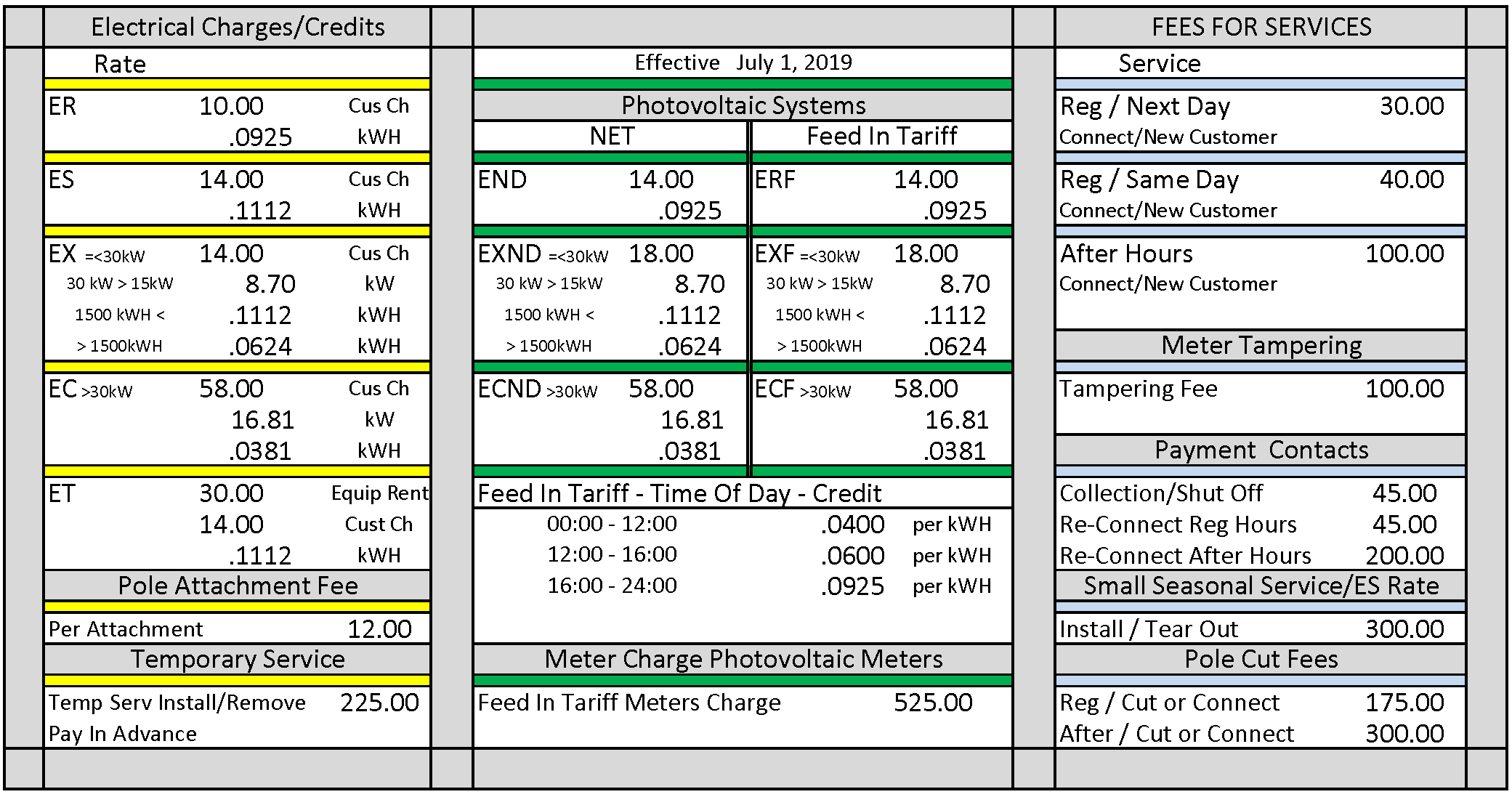 Why does Bountiful City use a feed-in tariff metering system?
Effective July 1, 2017, Bountiful City changed its solar metering method for all NEW private power plants (solar customers), moving from net-metering to feed-in tariff metering. Much has changed since Bountiful entered into its first solar agreement in 2009; utilization of solar and associated technologies is ever evolving. As things change, it is necessary for Bountiful City to also change and adapt in order to assure a sustainable solar program for our community. Recent changes take into consideration electrical demand and prevent a significant cost shift to other customers who do not choose to install their own solar systems. Existing customers (prior to July 1, 2017) continue to operate in accordance with original net-metering agreements with the City.
Prior to July 1, 2017 Solar Metering Agreements were for "Net-Metering," requiring only one meter. Effective July 1, 2017 Solar Metering Agreements are "Feed-in Tarrif Metering," requiring more than one meter. (See illustrations below:)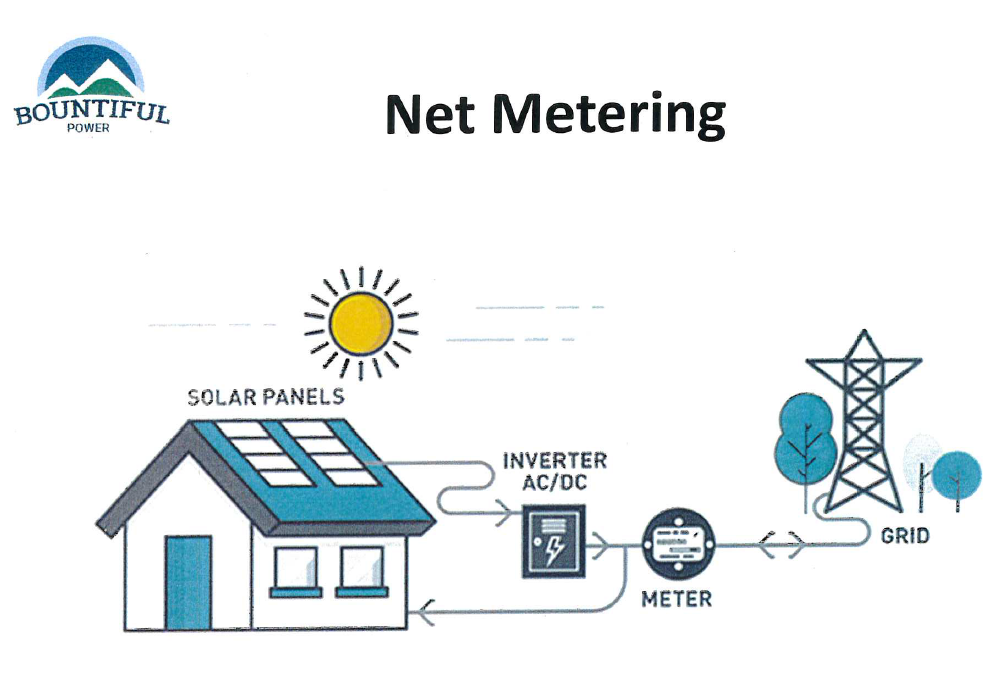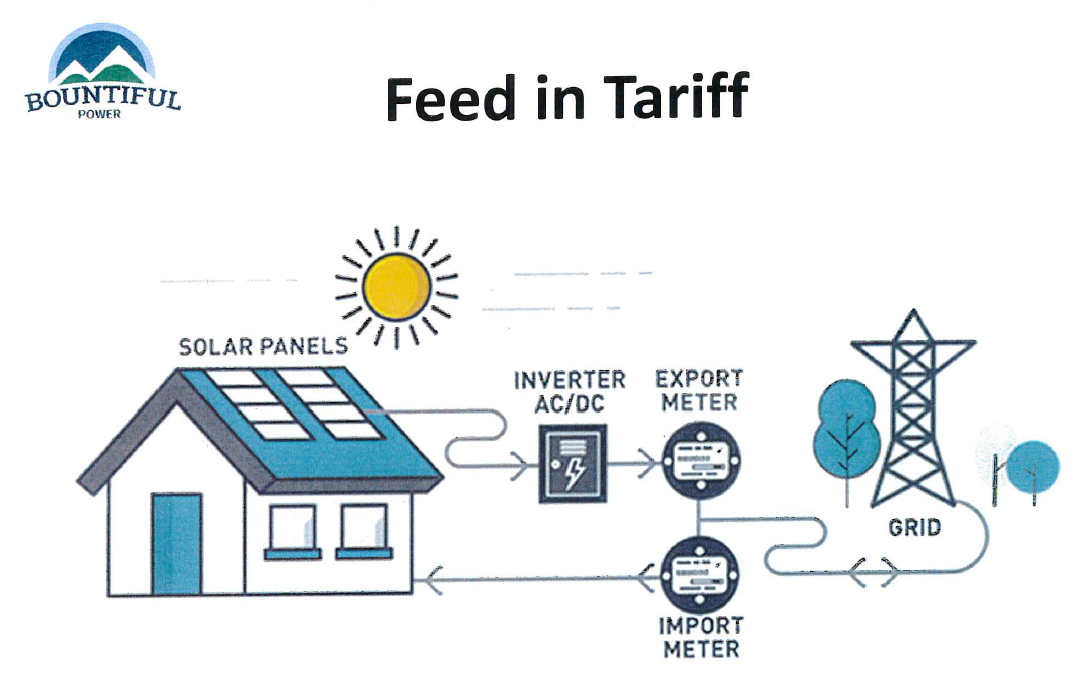 What happens if I own a solar power system and the sun isn't shining?
At night, or on very stormy days, a conventional solar electric system goes dormant. During these times when your system is dormant, Bountiful Power has you covered - we are happy to meet your electricity needs from our grid.
How can I maximize the credit benefit earned through my solar electric system?
Solar electricity supplied to Bountiful City during the highest demand time will receive the highest energy credit.
According to Bountiful Power, the highest demand for power exists between the hours of 4 pm and 12 am. (this is the time that most residents are home and consuming higher levels of power).
West facing solar panels are most likely to supply solar power during the high demand (and high credit) period of time.
Trimming large or overgrown trees can increase the amount of solar energy that your panels are able to collect.
Are there tax benefits for solar panel owners?
While Bountiful City does not purport to advise you on possible tax credit or benefits, we share the following resources:
Federal Tax Credit:
The 30% solar tax credit has been extended till the end of 2018. The tax credit will continue at 30% until the end of 2018 for both homeowners and businesses, and then step down over the next three years to 25%, then 20%, then 15% and then 10% in 2022.
Utah Taxpayer link for Renewable Energy Systems (Solar Tax Credit)
What is the current process to obtain a solar permit?
Permits are obtained through the Planning and Engineering Depts at Bountiful City - located on the north east side of City Hall.
790 S 100 E Bountiful Utah
801-298-6190
Bountiful's Solar Permit Packet and step-by-step Instructions may be accessed by clicking the link below.
Please note that only complete, paid applications will be accepted. A complete appliation must include an official clearance letter verifying inspection/approval from South Davis Metro Fire Agency.
Who can I talk about the solar metering agreement?
Please contact Bountiful Power (801 298-6072) regarding solar questions:
For questions regarding specific Bountiful solar customers, please ask for Kim Bushnell, Metering Foreman. email: kbushnell@bountifuluta.gov

For general solar rate questions or feed-in tariff metering questions, please ask for Jay Christensen, Accountant. email: jchristensen@bountifulutah.gov
I have a few questions about obtaining a solar permit; who can I talk to about the code involved?
Feel free to contact Bountiful City Planning and Zoning 801-298-6190 or send an email to planning@bountifulutah.gov. We are happy to assist you!
How do 2017 rates electric rates and fees compare with 2016 rates?
Solar Electricity Technical Questions
How does a solar electric system work?
A solar electric system (also known as a photovoltaic system) uses solar panels to convert sunlight to electricity. This electricity is then converted to AC power which you can use to supply part of your electric use. Bountiful City purchases solar generated energy from customers according to metering agreement with Bountiful Power. Bountiful City Land Use code 14-14-126 is concerned with placement and safety of systems, and does not specifically address energy purchasing.
Are solar electric systems reliable?
While solar technology is always evolving, solar electric systems are not a new concept and have been in operation for many years. The first commercial application of solar electric power was in the aerospace industry. In the early 1950s, the aerospace industry was already using solar cells to extend the useful life of satellites. The first solar agreement in Bountiful was put into place in 2009.
The reliability of your own solar system may depend on the quality of the system, installation, etc. The good news is that solar panel owners are always backed up by the Bountiful City power grid; solar users actually utilize that grid more than 99% of the time. The majority of the time solar users are either using energy from the grid or supplying energy back through the grid, essentially using the grid as a battery.
Is my roof suitable for solar panels? How would rooftop panels affect my roof?
Only a Solar System professional is qualified to advise you. Industry reports that about 60% of roofs are suitable for solar panels. There are many variables in determining if a roof is suitable for a solar system, but the three main factors include:
Orientation panels face. (Note: West facing solar panels are most likely to generate power at the optimal demand time - earning the highest rate to the owner.)
Shading
Roof condition and pitch
A qualified solar installer will be able to determine if your roof is suitable for solar.
It is important to ask a solar installer about the penetrations that will be needed on your roof, their method of waterproofing and warranties for leaks.
How long will a solar electric system last?
A qualified contractor can provide you with the most up-to-date and accurate information. Many new solar electric systems have a 20 year warranty. The average system degrades in output by approximately 1% per year. Example: In 20 years, a 1,000 watt system will produce at least 800 watts of electricity.
Will solar panels heat my pool or the water in my home water heater?
Only a Solar System professional is qualified to advise you. Most professionals report that solar panels will not heat a pool or run a water heater. According to experts, the technology used to convert sunlight into electricity is different from the technology used to heat water. Hot water and pool heaters use a technology called solar thermal. The two technologies are different and have no common parts.
How much do solar panels cost?
Only a Solar System professional is qualified to advise you on current costs and what is involved in installation of a solar electric system.
Industry professionals report that there are numerous factors that go into the cost of a solar array for your home including the size of the home/business, the direction your roof faces, technology and type of system, installation costs and more. Recently, Utah owners have seen costs for grid-tied systems ranging from approximately $17,500 to $22,000 for a 5-kilowatt system, which is an average size. (http://utahsolarworks.com). Systems which have batteries or fuel cell storage capacity generally cost an additional 40% or more.)
It is recommended that those considering solar conduct research, talk to other solar owners, research contractors through the Better Business Bureau, and speak with at least three qualified solar installers to understand pricing and the various technologies available, as well as the costs specific to those technologies.
Will a solar system work in a power outage?
For safety reasons, if there is a power outage, a solar system will automatically shut off when the power goes out.
Can solar energy generated be stored and used later?
The answer is no . . . and yes.
The vast majority of homes with solar installations are still connected to the utility grid and lack any storage system. (This type of system is referred to as grid-tied solar.) This means that solar-generated electricity is sent into the grid for others to use. Bountiful City pays owners for this excess electricity through a metering agreement, based on the time of day. Bountiful City has no way to "store" excess power.
Owners can elect to install systems that have battery or fuel cell storage capacity. These systems are significantly more expensive than grid-tied solar, (an additional 40% or more) and are therefore far less prevalent in Bountiful. A qualified solar installer could advise you on possibilities of solar storage.
What is the likely payback on a solar investment in terms of years?
Bountiful City supports but does not sell solar power. Only a professional can give you accurate figures. Industry professionals report that payback time is determined by many factors, most importantly the amount of your current electricity bill. According to one reputable resource, Sacramento Municipal Utility District (SMUD), customers with lower bill amounts typically have a 20+ year payback period. Customers who have much larger bills may see a return on their investment in as little as 7 to 10 years.
What kind of maintenance is involved with a solar electric system?
Only professional solar experts will be able to expressly advise you on maintenance. According to industry professionals there is generally relatively little maintenance with a solar electric system. Washing the panels a few times a year will help keep the system operating at its best. Washing can be done with a garden hose and should be done early in the morning before the panels get hot. Caution: Spraying cold water on hot solar panels can cause damage that cannot be repaired.
Only a qualified distributor/installer can accurately advise you.
Who is responsible for repairs, and what happens if the system breaks down?
Most contractors provide a warranty to owners. After the warranty expires, the home or business owner will be responsible to find a contractor to repair the system.
How do I know if the solar contractor is good?
Bountiful City and the Solar Energy Industries Association (SEIA) recommend you cross check the contractors with the Better Business Bureau (BBB) and customer review sites like Angie's list. It is always advisable to check all references. It is also prudent to obtain at least three qualified estimates when considering any significant purchase/investment such as installing a solar emergy system.
Are solar panel owners still using the electric grid?
Yes, solar panel owners still rely on the power grid more than 99% of the time. The majority of the time solar users are either using energy from the grid or supplying energy back through the grid, essentially using the grid as a battery.
Solar panel owners can elect to install systems that have battery or fuel cell storage capacity. These systems are generally significantly more expensive than grid-tied solar, (an additional 30-40% or more). Only a qualified solar installer can advise you on costs and options involved with solar and possible solar storage.
What happens with my solar electrical system if I move? Does it stay or move with me?
This decision is a personal one. On the whole, industry statistics indicate that the current trend is to have solar electric systems stay with the home to which they are attached. Bountiful City is not qualified to advise you on this matter. Solar companies claim that the cost to remove and reinstall a system is usually offset by the higher resale value of a home that produces some of its own electricity.
Other Questions You May Have When Considering Solar
Can Bountiful City recommend a manufacturer or contractor?
Bountiful City provides information contained on our website in an effort to help you as you consider your options in regard to power. However, we cannot provide direct recommendations or assistance in your decision making process. We will never suggest any specific manufacturer or contractor/installer.
As with any important decision, it is advisable to conduct your own research. We recommend you talk to several contractors during the process and check all available references, including the Better Business Bureau.
Do contractors need to be certified or licensed to install solar?
Utah's Division of Occupational and Professional Licensing requires installers of solar energy systems to be licensed contractors. General electrical contractors carrying an S200 or an S201 license are authorized to install solar photovoltaic systems. The Division has also established solar-specific license classifications. License classification S202 is for Solar Photovoltaic Contractors, and S215 is for Solar Thermal Systems Contractors. A Solar Photovoltaic Contractor is licensed for the fabrication, construction, installation, and replacement of photovoltaic cell panels and related components including battery storage systems, distribution panels, switch gear, electrical wires, inverters, and other electrical apparatus for solar photovoltaic systems. A Solar Thermal Systems Contractor is licensed for the construction, repair, and/or installation of solar thermal systems up to the system shut off valve or where the system interfaces with any other plumbing system.
What Bountiful Land Code addresses Solar Electricity?
Where Can I Learn More?