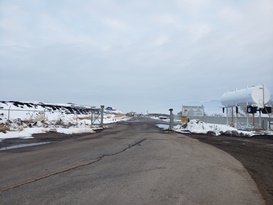 Bountiful City Landfill is one of our greatest assets
Summer Hours
April 1 to October 31
Monday - Saturday 8:00 a.m. to 6:00 p.m.
NOTE: All Vehicles must be OUT of the landfill by 6:00 p.m.
Please Plan Accordingly
** Closed Sunday & Holidays (click for holiday schedule) **
Compost and wood chips are available year round
Compost: $35/ton; Wood chips are $25/ton
If you plan to purchase compost or wood chips you must be at the landfill 30 minutes before closing


Green Waste
For Bountiful, Centerville, Woods Cross, North Salt Lake and West Bountiful residents ONLY (proof of residency required)
$5.00 per Residential Truck , Car or Small Trailer
$10.00 Residential Large Trailer
$15.00 Residential Large Truck
The Landfill does not accept the following:
Hazardous Waste, Liquids, Propane tanks, Barrels/Drums, Tires (unless shredded), Industrial Waste, Infectious Waste.

Asbestos and Animal Carcasses accepted with prior approval; check with Landfill Office.
1300 West 1600 North
West Bountiful, Utah
801.298.6169
WE NOW ACCEPT CREDIT CARDS!
No debit cards and no American Express - only Visa, MasterCard and Discover
Directions to Landfill
West on 500 South, over Legacy Highway follow the turn right (North) on the frontage road.
That road will take you to the Landfill.
As the effect of coronavirus (COVID-19) continues to evolve, Bountiful City is closely monitoring the situation and complying with recommendations given by the State of Utah and the CDC. Protecting the health and safety of our employees and residents is our highest priority while we work to provide as many City services as possible during this time. Because of this, Bountiful City offices will remain staffed and open, but we encourage residents to make every effort to conduct business via phone, e-mail, or online. View City Phone Directory here.

Winter Hours
November 1 to March 31
Monday - Saturday 8:00 a.m. to 5:00 p.m.
NOTE: All Vehicles must be OUT of the landfill by 5:00 p.m.
Please Plan Accordingly
** Closed Sunday & Holidays (click for holiday schedule) **
Landfill Rates
Commercial and Bountiful Residents only
$5.00 minimum fee for Bountiful resident hauling
garbage or trash generated in their home or yard
Please bring proof of Bountiful residency
Large Load: $10.00 per load
Extra Large Load: $15.00 per load
Commercial Rate: $30.00 per ton for concrete, construction,
remodeling, demolition or site preparation materials.
You must be at the landfill 30 minutes before closing to unload your vehicle.
Refrigerators and Freezers: $12.00 per item