Bountiful City Quarterly Newsletter

Click here to view older issues
Our newsletter is quarterly and is mailed out in your utility bill in February, May, August and November. If you would like to receive the newsletter via email, please sign up here.
Bountiful City E-Newsletter
Click here to view current and past issues of our e-newsletter, which is published twice a month and posted on our social media. If you would like to receive the e-newsletter via email, please sign up here.
Mayor's Corner: Bountiful's Summer!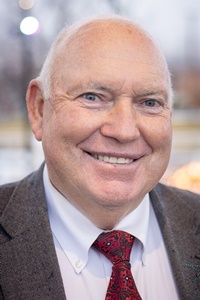 Hey, all you Bountiful-eezians (that's what River City's Mayor George Shinn might call us)!
The Music Man is one of my favorite summertime entertainments, and I want to be as clear as a buttonhook in the well water about ONE VERY IMPORTANT THING: Star-spangled thanks to all of our patriotic residents who celebrated the July holidays SAFELY and RESPONSIBLY. As of press time, we've made it through with no fires, and that's supercalifragilisticexpialidocious!
And speaking of fireworks, our LOUD, LONG, GRAND, and GIGANTICALLY SNAZZY annual July 24th City fireworks show celebrates Utah's unique Pioneer Day holiday, and yes, it's about how Utah was "settled" – which often ignores the Native Americans who were already here – but it's an indelible saga of the American West. A different perspective of Pioneer Day can be obtained by travelling southwest over Wyoming Highway 28 across South Pass. Wow and yikes! If you've done it you know—it was hard! I like to think that fireworks on July 24th, as on July 4th, celebrate grit, courage, and the indomitable American spirit. We stand on others' shoulders.
During the month of July, our air was smoky from fires in California, Idaho, Oregon, and Washington. With the exception of COVID still being with us, nothing has alarmed Davis County Mayors as much as our tinderbox hillsides. Please continue to use caution!
A quick note about COVID. We're not out of the woods yet. Too many people are still getting infected and too many people are still dying. And here's the thing: nearly all of the deaths now are among those who have not been vaccinated. The data certainly shows that not being vaccinated brings greater risk.
This summer has been one of the most sizzling on record, but if you want to see something remarkable, check out the daytime popularity of our beautiful Creekside Park and new Town Square water features. What great places for families to cool off and have fun! Who would have ever imagined the carpet of shade screens that pop up daily as a place to relax and picnic – or pick up an ice cream cone or cold drink downtown! As Bountiful's Mayor, I'm delighted! Re-purposing that Town Square block has been one of the best things we've accomplished, and if you haven't checked it out, come down on Thursday nights for the Farmers' Market or Friday nights to enjoy all of the food trucks!
Hey, Mayor Shinn! Keep your pool table and all that Trouble with a Capital T! Bountiful is a fun and happenin' place!