Bountiful City Streets, Sanitation & Recycling
Garbage & recycling containers should be placed at the curb
before 7:00 a.m. on your regular pickup day.
Lids must be closed when put out for collection.

Landfill information

For more recycling information, click picture below: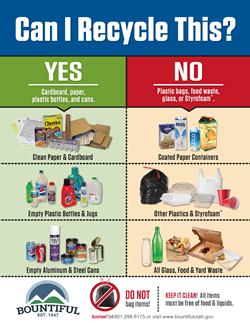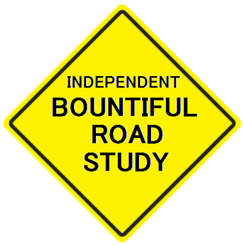 Click the sign to view the study,
click here for the news advisory.
Streets, Sanitation & Landfill Director
Charles Benson
950 South 200 West
Bountiful, Utah 84010
801.298.6175 (Main Department Number)

Recycling and Garbage Pick Up Information
Click here to determine which day of the week your garbage/recycling is picked up.
To determine which week (green or white) your recycling is picked up (recycling is picked up every other week) and what can be recycled click here:
2023 Recycle Calendar & Map
2024 Recycle Calendar & Map

Trash tips for a Beautiful Bountiful
Listed below are a few recommendations that we feel will help our Sanitation crews and keeps our neighborhoods looking good:
To ensure that your trash will be picked up place your cans on the curb by 7:00 a.m. or the night before.
If you have more than one can, separate them by five feet to allow room for the grabbers to reach between the cans.
Place your can away from obstructions such as mail boxes, cars, trees and utility boxes.
To prevent garbage from spilling or blowing, bag all trash including yard waste, grass and leaves. Don't stack garbage on top or above the can lid, those items will not fall freely into the hopper which will create a mess.
Extra cans are available to meet your needs.
The City sponsors a Household Hazardous Waste collection on one Saturday in October. Watch for a notice in your utility bill with details. If you have HHW to dispose of at another time during the year,
please contact Veolia at 801.294.7111 and speak to Nick or Jeremy. There will be a fee.
Winter Parking & Snow Removal
From November 1 through March 31, all vehicles must be parked off the street between the hours of 2:00 a.m. and 6:00 a.m., or during snow storms to aid the Bountiful Street Department in snow removal.
It is unlawful to blow, shovel or plow snow from private property onto a public street or right of way causing a hazard to vehicular or pedestrian traffic.
Holiday Garbage Pick Up
If your garbage day falls on or is after Thanksgiving Day, Christmas Day, or New Years Day**, your garbage day and the remaining week's pick up will be delayed by one day, with Friday's garbage being picked up on Saturday.
**FOR ALL OTHER HOLIDAYS, GARBAGE IS PICKED UP ON YOUR NORMAL GARBAGE DAY!!**