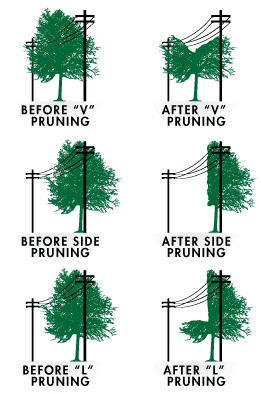 Tree Trimming and Vegetation Management
Understanding the Need for Vegetation Management Along Electric Lines:
Trees contacting power lines can pose safety hazards and are frequent causes of power outages, especially during storms. Pruning or removing these trees improves safety and assures electric service reliability.
Bountiful City and our contracted arborists take care to prune only branches that could affect the power lines, eliminating the hazard and minimizing injury to trees
The methods used are endorsed by the International Society of Arboriculture and the Tree Care Industry.
You can help avoid the need for utility tree pruning by planting trees where they will not grow to affect the power lines.
How much do we prune?
Pruning clearances depend on tree species and growth patterns as well as the voltage of nearby power lines. Around distribution lines, which are typically found in neighborhoods, we provide at least 10 feet of clearance. Fast-growing species (Willow, Siberian Elm, Cottonwood and Boxelder) require 14 feet of clearance while slow-growing species (Spruce and Oak) require at least 10 feet of clearance.